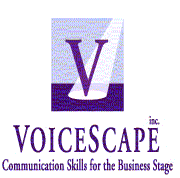 OUR ONE DAY WORKSHOP
"Taking the Stage":
Enhancing Your Presentation Skills

The agenda includes short experiential lectures, participatory exercises, videotaping and individual feedback for each participant. All levels of speaking skill are welcomed and can benefit from our unique theatre-based approach.
Luncheon and all materials--including a 40-page workbook for you to keep--are included. Join us!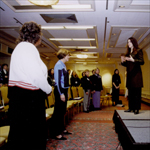 How do you present yourself to others? Using creative techniques from the field of actor training, our skilled coaches will help you find your best business voice, postures, gestures and mindsets for use in presentations, meetings, speeches, interviews, networking events and more.

Spend a day away from the office with us learning to enhance your presentation style. We'll make simple adjustments in your voice, body, and preparation routines that will help you build an authentic and dynamic connection to audiences of one, two, or a hundred.

Coming soon to a theater near you:
our One Day Workshop at the Cliff Dwellers Club in downtown Chicago!

Next One Day Workshop:
FRIDAY, APRIL 7, 2006